Martin Jean & Jackson is opening a new office location in Oklahoma City!
It has been an exciting year for Martin Jean & Jackson! To better serve our statewide personal injury practice, we are opening a fourth location in Oklahoma City. With the addition of our Oklahoma City office, we now have offices throughout the entire state. The new location joins our existing offices in Ponca City, Stillwater, and Tulsa.
In addition to the expansion of our office locations, we have also expanded the Martin Jean & Jackson legal team. We are excited to welcome our 9th attorney, Joshua Peach, to our new Oklahoma City location. Joshua brings years of experience in personal injury litigation to our legal team and will be a part of our litigation department.
Joshua will join leading Oklahoma injury attorney and partner, Kenneth Jean, in Oklahoma City. Jean has over 25 years of experience in personal injury law and has recovered millions of dollars on behalf of his clients. Jean has been recognized by the Million-Dollar and Multi-Million-Dollar Advocates Forum, an honor achieved by less than 1% of practicing attorneys in the country. He is also recognized by the American Institute of Personal Injury Attorneys as a 10 Best Attorney for Client Satisfaction. All of the attorneys at Martin Jean & Jackson are dedicated to achieving maximum results for our clients and we are grateful to have attorneys like Jean & Peach in our Oklahoma City office. We are excited about expanding our reach to serve more clients in the state of Oklahoma and the Oklahoma City area.
The Oklahoma City office is located at 13900 N. Portland Ave., Oklahoma City, OK 73134. To get in contact with the Oklahoma City team, call us toll free at 833-200-8777, or locally at 405-832-0777. Our fax number is 405-849-4489.
Thank you to all of our clients, colleagues, and the community for their continuous support!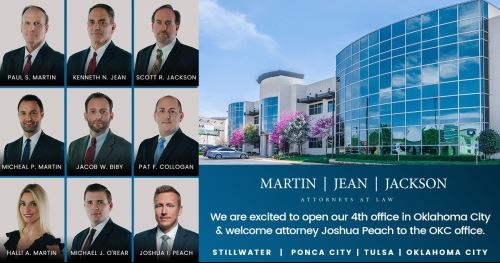 Visit our contact page to send us a message or to view information about our other office locations.